Today, I'm linking up with
Karli
again for another fun 10 on Tuesday post!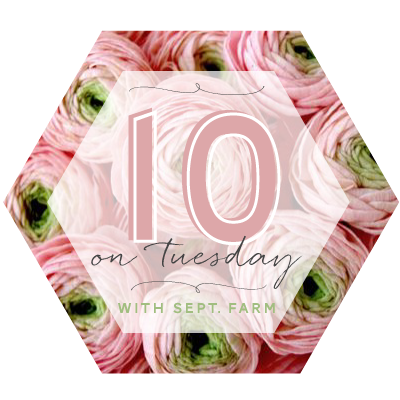 Yesterday, a couple of co-workers and myself were talking about unexpected, non-typical, sometimes off the wall questions you've been asked during interviews before. Anything from, "What was the last book you read?" "What color car do you drive?" "If you could be a shape, which one would you be?" All real questions, we had been asked at some point in our careers.
In a recent interview, I was asked, "What would be your dream job?" It caught me off guard, but I was able to answer it rather quickly. Then hours later, my mind started swirling with all the things I COULD'VE said and hence where the discussion with the co-workers began.
What if someone asked you, "What would be your dream job?" How would you answer? Here's 10 dream jobs I would accept in a heartbeat...
(Keep in mind, these are all obviously under unreal circumstances and fit specifically under the "dream" category.)
|one|
(This was my actual answer in the interview.) Be a Stay at Home Mom Blogger....some of you ladies...are rocking this gig! I don't know how you manage to run a household, be amazing wives, mothers, friends, school volunteers and manage to have fantastic blog posts everyday! Some of you are making a living off of your blog, and I think that is WONDERFUL! Sign me up! Only A. I don't dedicate the time and attention to my blog like you do. B. My life is not as interesting as yours. C. My husband would have to make a whoooooolllle lot more than he already does for me to stay home full time. D. There's just not a niche for a famed mom blogger in my area....yet! But we said "DREAM JOB" right, not "ideally realistic job". I'm dreaming.
|two|
Disney Rides Tester. Who even knows if this is a real thing, but wouldn't it be fun?!
|three|
Hawaii Beaches Reviewer. Basically life would be a constant beach vacation and I would give you my two cents on the beaches, the water temp, the sunsets.....ahhhhh.
|four|
Crayola Name Creator. Admit it, you'd want to come up with all those fun names too!
|five|
Joanna Gaines' Home Staging Assistant. Nothing sounds more fun to me than staging on of their beautiful homes before the new owners come in for the first time! Hand me those random plates to hang on a wall and muffins to put on a platter!!
|six|
Vols Merchandise Selector. I'm sure there's a more distinct name for this, and someone who ACTUALLY has this job. I LOVE some UT orange and wearing it loud and proud all season long. It would be the most fun to shop and pick out all sorts of t-shirts, apparel, gadgets, and everything to get Vols fans ready for the new season in September!! #gbo
|seven|
Front Row Seat Filler for the "Friends" Reunion show. This is going to happen...they may be 80 years old and the Central Perk Coffee House might transformed to a Senior Living Center, but it's going to happen and I will be there!
|eight|
Macy's Christmas Window Display Designer. There is nothing more magical than Christmastime in NYC and all the lovely and detailed store window fronts! I would LOVE to leave my decorating stamp on one of those windows just once!!
|nine|
Ree Drummond's Personal Taste Tester - She'd cook, we'd chat, we'd taste, she'd snap photos for her blog and cookbooks...it'd be a great friendship!
|ten|
Skagit Valley Tulip Festival Tour Guide. Also another real job that some lucky guy or gal has! I've never been to this event, heck I've never been to Washington State, but my love for tulips runs deep! If you've never heard of this festival or area, please Google it, and then go to Google images, and then TRY to pick your favorite photo...because you won't be able to! This is line on the bucket list for sure!!
What would be YOUR dream job?
Don't forget tomorrow is our monthly Pinspiration Wednesday linkup! Grab our graphic and join us to share in our linkup for May...we're talking all about our favorite tips and tricks to get us in our best Summer-ready shape! Everything from healthy recipe and snack ideas to work out routines! Join us tomorrow!