Geeze, I can't believe it's the last week of the month already and time for another one of my favorite monthly linkups!!
What we're eating this week…
Monday we got home much later than normal following a LONG OB appointment and HELLOOOO it was Bachelorette night..dinner was a really super quick chicken pasta salad I whipped up. Boil whatever small noodles you have on hand, grill and chop a couple chicken breasts, chop a tomato, thaw some corn, mix together some mayo and random ranch-like seasonings…BAM. Dinner and so good!
Later this week, I'm thinking we need a night out to eat. Maybe with friends, maybe just us..we'll see.
What I'm reminiscing about…
Can we just go back to a taaaad cooler weather, please? I love Summer, but when it's too hot and humid to be outside it's a bit extreme.
What I'm loving…
I'm getting hints here and there from various people about our upcoming baby showers! I just love all the excitement everyone has for girls' arrival!
What we've been up to…
We're trying our hardest to finish small projects in the nursery this week and next so that the room can be ready before our first shower next weekend. I feel like I need a place ready for things. #firsttimemomprobs
What I'm dreading…
Not much of anything right now. Life is swell!!
What I'm working on…
At work, I'm making lists and notes all day every day of things I will have to train my fill-in for. It's going to be hard for me to just let go and let someone else take over while I'm gone, but I have a feeling it's going to be awfully hard to come back in January too!
What I'm excited about…
August! August has always been such a fun month filled with birthdays and various events. This year will be even sweeter with baby showers galore!
What I'm watching…
We're hooked…HOOKED on Big Brother this year! I will admit, 3 nights a week is not enough. I sincerely think we would watch it 7 nights a week if it came on that often.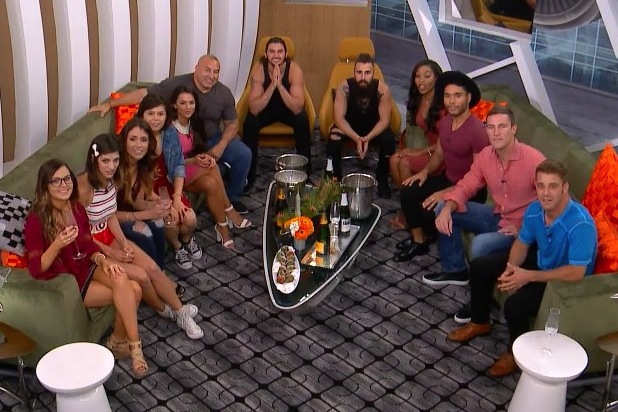 And of course, there's JoJo and her men. I'm pretty surprised she sent Luke home last week and that Robbie is still there. I never have liked Robbie, but when I read
Shaffer's recap last week
comparing him to a Ken doll, I was done. He needs to go.
What I'm listening to…
Work is stressful right now, so I've been alternating my Pandora channels between The Piano Guys channel and the Ben Rector channel. I need easy right now.
What I'm wearing…
I'll talk more about it in tomorrow Bumpdate post, but yall…leggings and pregnancy are a flippin' match made in heaven.
What we're doing this weekend…
Like I mentioned earlier, hopefully working on finishing some Nursery projects.
What I'm doing next month…
Let's see there's my birthday, 3 baby showers, the hospital's annual HUGE Golf Tournament, probably (and I stress the probably) starting training for my fill-in, several other birthdays, VBS, and maybe a nap here and there!
What else is new…
If you've not linked up with us yet, be sure to join myself,
Leigh
&
Justine
next Wednesday for our Pinspiration Wednesday linkup! Everyone's calendars start filling up in August (or maybe it's just me) and a lot of families are getting back into the school routines…who has time for dinner prep, cooking and baking?! This is why some genius somewhere long ago created the blessed Crock Pot!
Linkup with us Wednesday and share your favorite Crock Pot recipes!!
Thanks for stopping by! Be sure to check in
here
for everyone's else's What's Up Wednesday posts today!