It's the last Wednesday of the month, so we're all linking up for What's Up Wednesday!
I'll just go ahead and apologize for ALL of the baby / pregnancy related answers to this month's questions. It's just the phase of life we're in right now. These girls are already taking over almost every aspect of our lives…and I love it!
|What We're Eating|
Monday

night I hosted a Bunco group at our house and for dinner, I served a BBQ Potato Bar. This was such an easy idea to throw together with minimal cleanup and was delicious!! Everybody wins! This is the recipe that I use when I make pulled pork in the crock pot. For

Monday

, I doubled the recipe to feed 12 (+Stephen which is basically feeding 2 more people). I also add garlic powder, minced onion, salt and pepper to the marinade. Also, I typically buy a boneless Boston Butt for the cut of meat, but have used a shoulder roast as it mentions, both turn out great.
After a BUSY

Monday

and

Monday

night,

Tuesday

was super simple with spaghetti. I don't make it often, but when I do we both devour it. There's just something so comforting about a plate of spaghetti!
This weekend, we're hoping to sneak in a date night to go out of town to do our baby registries. We may have talked more about where we're going to eat more than we've talked about registry items we need to check off of the list.
|What I'm Reminiscing About|
Seeing everyone's Summer vacation pictures pop up over Facebook and IG has me reminiscing about our previous beach trips. We love beach vacations and the relaxation the week brings. We may be skipping the beach this year, but we already have dates and reservations for next year...WITH OUR GIRLS!
|What I'm Loving|
Monday

afternoon, we had our longest ultrasound yet which was the anatomy scan on both girls. It was the best and most relaxing feeling to lay there for an hour and just watch these two miracle babies move and squirm around as they were getting measured literally from head to toe.
|What We've Been Up To|
Nursery progress is well underway! I want to keep most pics away from the blog until the room is finished and ready for a big reveal. I will say, it's my favorite room in the house and I often just go in there to stand and look around.


OH…and diaper and wipes stockpiles are taking over at our house and my in-law's house. God bless them.
|What I'm Dreading|
There are times that I feel like I'm stressed OUT lately with everything that we have to plan for and get done in the next three months…THREE MONTHS. Plus, the other girl I work with is leaving for a better job opportunity, so there's the new pressure of taking on all of her tasks on top of mine, which I'm insanely behind on. AND, training a new person not only for her job but mine too during my maternity leave. It's a lot to chew on, but overall, I know it'll all get worked out and we have such a joyous time ahead of us to look forward to!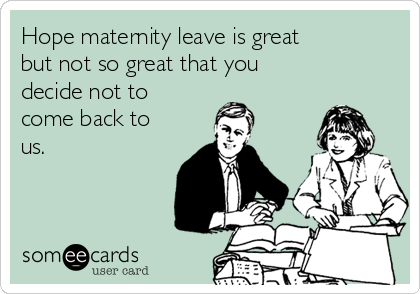 |What I'm Working On|
Yeah, so I'm gonna go with the girls' nursery again for this one. Sorry friends..it is what it is.
|What I'm Excited About|
In the past few weeks, two good friends and a family member have found out they were pregnant too! It's been so nice to talk to these girls who I'm so close with even if we're at totally different stages of pregnancy. PLUS, all three have struggled with infertility and getting pregnant too. I have prayed for these girls as much as I've prayed for myself through the years. It's just such a blessing to finally be experiencing our long-awaited joys together.
|What I'm Watching / Reading|
Sadly, I'm not reading too much right now other than family plan insurance coverages, hospital pre-registration and anesthesia registration paperwork. BUT, you better believe I'm sucked into The Bachelorette and Big Brother for the Summer!
I love me some James T, but let's be honest, she'll never pick him. (And at the time of writing this, I'm half way through this week's episode, so who knows...he may be gone at the end of this one.)
And on BB, I just want to stretch Nicole's nostrils out. It really bugs me.
And so does this girl's voice.
Ugh. AND WHY do they feel the need to YELL to the camera right in front of them when they do their one on one interviews?!? SOMEBODY please explain that one!
|What I'm Listening To|
I go through phases of music I play on different Pandora channels while I'm at work. I'm back on my Boyce Avenue channel kick. Perfect mix for the office!


|What I'm Wearing|
It's Summer. I live in TN. I'm pregnant with twins. I'm wearing a lot of loose and cool tops right now. AND A LOT of flip flops because I've got to have something I can kick off in an instant. My most odd ball pregnancy symptom, and so far the most discomforting (which in the grand scheme of symptoms I COULD have, it's really nothing) my hands and feet stay BLAZING hot! It's the weirdest thing, but common and unfortunately not a lot you can do about it other than deal. It's due to increased blood flow, and it stinks, especially when your burning hot feet wake you up in the middle of the night. Anyways, you'll find me literally barefoot and pregnant quite often these days.
|What I'm Doing This Weekend|
More than likely, I'll be making up a few hours at work to catch up on some things, and as I mentioned earlier, we're going to try and squeeze in that date night we so desperately need!
|What I'm Looking Forward To Next Month|
This weekend technically starts "next month", and I'm super excited about our traditional family get-togethers for the 4th. We'll be with my family at some point over the weekend celebrating with LOTS of food, some outdoor games and fireworks! Then, we'll be with Stephen's family's block party on the 4th. I just love traditions and our little town is FULL of traditions for the 4th from the Little Patriots Parade, to the Fire Cracker Flea Market barn sales, to Slide Cookeville and topping it off with the 2nd largest fireworks show in the state! It's a big deal around here!! If you're near mid-TN, check out Cookeville's Red, White and Boom 4th of July Celebration weekend!


|What Else is New|
If you've been following along with Leigh, Justine and I for our monthly Pinspiration

Wednesday

linkup, you might want to note a small change for next week's July link up! Originally we had planned to share our 4th of July Pinterest finds and ideas, but since it will be after the 4th, we've decided to share our favorite Summer Grill-Out recipes, tips, etc! There is nothing better than a dinner from the grill on a hot summer night! Join us next week for Pinspiration

Wednesday

sharing all your best grilling tips and recipes!!